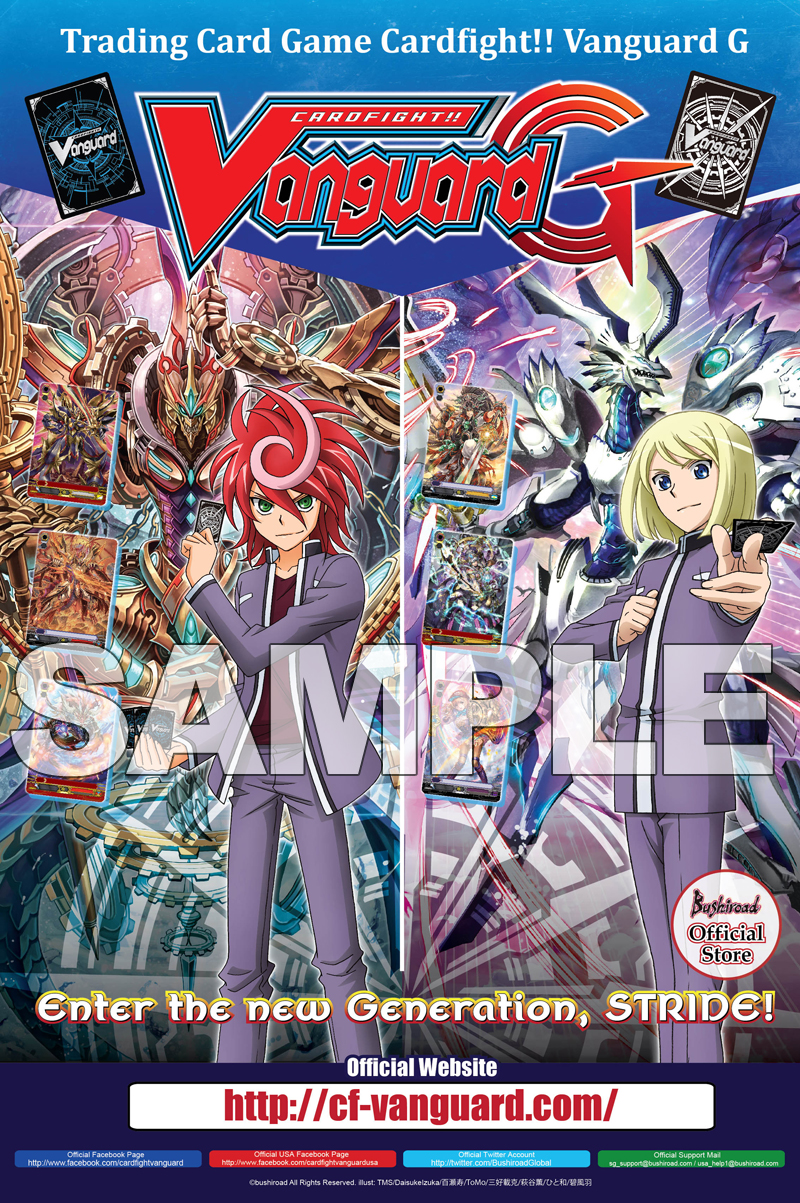 To thank all official Bushiroad stores for the support throughout these years, we are sending out exclusive shop banners to all active official stores in the world!
Look out for these large 47″ by 31″ store banners at an official Cardfight!! Vanguard store near you! Share with us a picture of your local store with the banner on Facebook or Twitter with the hashtag #StrideVG and we might feature the store on Facebook! Who knows, we might send some extra goodies over to the featured store!

[Singapore] Cardfight!! Vanguard Fighter's Club is a special campaign held by Bushiroad. The campaign will be held at participating shops and contain a series of events for English Cardfight!! Vanguard. All events are open to everyone and aims to spread fun and excitement to the English Cardfight!! Vanguard community. All events held at Cardfight!! Vanguard Fighter's Club will be free!
[Update] Check out the lucky number on the flyer and stand a chance to win attractive prizes!
Click here for a list of participating shops in Singapore.


May 6, 2015
May 5, 2015
May 4, 2015
May 1, 2015
April 30, 2015
April 29, 2015
April 28, 2015
April 27, 2015
April 24, 2015
April 23, 2015
April 22, 2015
April 21, 2015
April 20, 2015
April 17, 2015
April 16, 2015
April 15, 2015
April 14, 2015
April 13, 2015
April 10, 2015
April 9, 2015
April 8, 2015
April 7, 2015
April 6, 2015
April 3, 2015
April 2, 2015
April 1, 2015
March 31, 2015
March 30, 2015
March 27, 2015
March 26, 2015
March 25, 2015
March 24, 2015
March 23, 2015
March 20, 2015
March 19, 2015
March 18, 2015
March 17, 2015
March 16, 2015
March 13, 2015
March 12, 2015
March 11, 2015
March 10, 2015
March 9, 2015
March 6, 2015
March 5, 2015
March 4, 2015
March 3, 2015
March 2, 2015
February 27, 2015
February 26, 2015
February 25, 2015
February 24, 2015
February 23, 2015
February 20, 2015
February 19, 2015
February 18, 2015
February 17, 2015
February 16, 2015
February 13, 2015
February 12, 2015
February 11, 2015
February 10, 2015
February 9, 2015
February 6, 2015
February 5, 2015
February 4, 2015
February 3, 2015
February 2, 2015
January 30, 2015
January 29, 2015
January 28, 2015
January 27, 2015
January 26, 2015
January 23, 2015
January 22, 2015
January 21, 2015
January 20, 2015
January 19, 2015
January 16, 2015
January 15, 2015
January 14, 2015
January 13, 2015
January 12, 2015
January 9, 2015
January 8, 2015
January 7, 2015
January 6, 2015
January 5, 2015
January 2, 2015
January 1, 2015
December 31, 2014
December 30, 2014
December 29, 2014
December 26, 2014
December 25, 2014
December 24, 2014
December 23, 2014
December 22, 2014
December 19, 2014
December 18, 2014
December 17, 2014
December 16, 2014
December 15, 2014
December 12, 2014
December 11, 2014
December 10, 2014
December 9, 2014
December 8, 2014
December 5, 2014
December 4, 2014
December 3, 2014
December 2, 2014
December 1, 2014
November 28, 2014
November 27, 2014
November 26, 2014
November 25, 2014
November 24, 2014
November 21, 2014
November 20, 2014
November 19, 2014
November 18, 2014
November 17, 2014
November 14, 2014
November 13, 2014
November 12, 2014
November 11, 2014
November 10, 2014
November 08, 2014
November 07, 2014
November 06, 2014
November 05, 2014
November 04, 2014
November 03, 2014
October 31, 2014
October 30, 2014
October 29, 2014
October 28, 2014
October 27, 2014
October 24, 2014
October 23, 2014
October 22, 2014
October 21, 2014
October 20, 2014
October 17, 2014
October 16, 2014
October 15, 2014
October 14, 2014
October 13, 2014
October 10, 2014
October 9, 2014
October 8, 2014
October 7, 2014
October 6, 2014
October 3, 2014
October 2, 2014
October 1, 2014
September 30, 2014
September 29, 2014
September 26, 2014
September 25, 2014
September 24, 2014
September 23, 2014
September 22, 2014
September 19, 2014
September 18, 2014
September 17, 2014
September 16, 2014
September 15, 2014
September 12, 2014
September 11, 2014
September 10, 2014
September 9, 2014
September 8, 2014
September 5, 2014
September 4, 2014
September 3, 2014
September 2, 2014
September 1, 2014
August 29, 2014
August 28, 2014
August 27, 2014
August 26, 2014
August 25, 2014
August 22, 2014
August 21, 2014
August 20, 2014
August 19, 2014
August 18, 2014
August 15, 2014
August 14, 2014
August 13, 2014
August 12, 2014
August 11, 2014
August 8, 2014
August 7, 2014
August 6, 2014
August 5, 2014
August 4, 2014
August 1, 2014
July 31, 2014
July 30, 2014
July 29, 2014
July 28, 2014
July 25, 2014
July 24, 2014
July 23, 2014
July 22, 2014
July 21, 2014
July 18, 2014
July 17, 2014
July 16, 2014
July 15, 2014
July 14, 2014
July 11, 2014
July 10, 2014
July 9, 2014
July 8, 2014
July 7, 2014
July 4, 2014
July 3, 2014
July 2, 2014
July 1, 2014
June 30, 2014
June 27, 2014
June 26, 2014
June 25, 2014
June 24, 2014
June 23, 2014
June 20, 2014
June 19, 2014
June 18, 2014
June 17, 2014
June 16, 2014
June 13, 2014
June 12, 2014
June 11, 2014
June 10, 2014
June 9, 2014
June 6, 2014
June 5, 2014
June 4, 2014
June 3, 2014
June 2, 2014
May 30, 2014
May 29, 2014
May 28, 2014
May 27, 2014
May 26, 2014
May 24, 2014
May 23, 2014
May 22, 2014
May 21, 2014
May 20, 2014
May 19, 2014
May 16, 2014
May 15, 2014
May 14, 2014
May 13, 2014
May 12, 2014
May 9, 2014
May 8, 2014
May 7, 2014
May 6, 2014
May 5, 2014
May 2, 2014
May 1, 2014
April 30, 2014
April 29, 2014
April 28, 2014
April 25, 2014
April 24, 2014
April 23, 2014
April 22, 2014
April 21, 2014
April 18, 2014
April 17, 2014
April 16, 2014
April 15, 2014
April 14, 2014
April 11, 2014
April 10, 2014
April 9, 2014
April 8, 2014
April 7, 2014
April 4, 2014
April 3, 2014
April 2, 2014
April 1, 2014
March 31, 2014
March 28, 2014
March 27, 2014
March 26, 2014
March 25, 2014
March 24, 2014
March 21, 2014
March 20, 2014
March 19, 2014
March 18, 2014
March 17, 2014
March 14, 2014
March 13, 2014
March 12, 2014
March 11, 2014
March 10, 2014
March 07, 2014
March 06, 2014
March 05, 2014
March 04, 2014
March 03, 2014