Sneak Preview Tournaments
Sneak Preview Tournaments are usually held 1 week before the release date of an expansion. Participants can stand a chance to obtain exclusive sneak preview event items such as playmats, deck cases and promotional cards. The exclusive items differ from each Sneak Preview Event.
More information about Sneak Preview Tournaments can be found here.
UPDATE: Regarding Legion Rares in Booster Draft Tournaments
If a fighter opens a Legion Rare, that fighter may ask for a judge to verify it. If it is verified, each player chooses the trigger unit, as well as two other cards, and places them face down.
The Recommended Booster Draft Rule has been updated to include Legion Rares and G unit.
Shop Tournaments
October to December 2014 Shop Tournament prize: Cardfight Pack Vol. 11
Each participant will receive one Cardfight Pack Vol. 11.
Cardfight Pack Vol. 11 contains 1 random card from the following 7 cards.
PR/0120EN Pansy Musketeer, Sylvia
PR/0121EN Awakening Liberator, Freed
PR/0122EN Shadow Blaze Dragon
PR/0123EN Egg Juggler
PR/0124EN Undefeated Mutant, Avectro Zeus
PR/0125EN-B/W Duo Happy Diary, Sheryl

Events
Legion Campaign
[UAE - Dubai] IGN Convention
Do not miss out the Cardfight!! Vanguard Grand Tournament at IGN Convention! Workshops and demonstrations will also be available!
Event Information
Date
22nd November 2014
Time
All day (tournament at 6:00pm)
Booth
Stand F8 (First Floor)
Location
IGN Convention Dubai
Dubai International Marine Club Mina Seyahi
* Organized by Battlezone
[Malaysia] COOL & TASTY JAPAN

Bushiroad will be going to AEON Malaysia 30th Anniversary "COOL & TASTY JAPAN" event!
Drop by Bushiroad booth for merchandise, demonstrations and more!
Event Information
Date
21st – 30th November 2014
Time
10:00am – 6:00pm
Location
Ground Floor Centre Court, 1 Utama Shopping Centre
Petaling Jaya
Voice actress and anime song artiste, Aimi, will be making a guest appearance on 30th November (Sunday) too!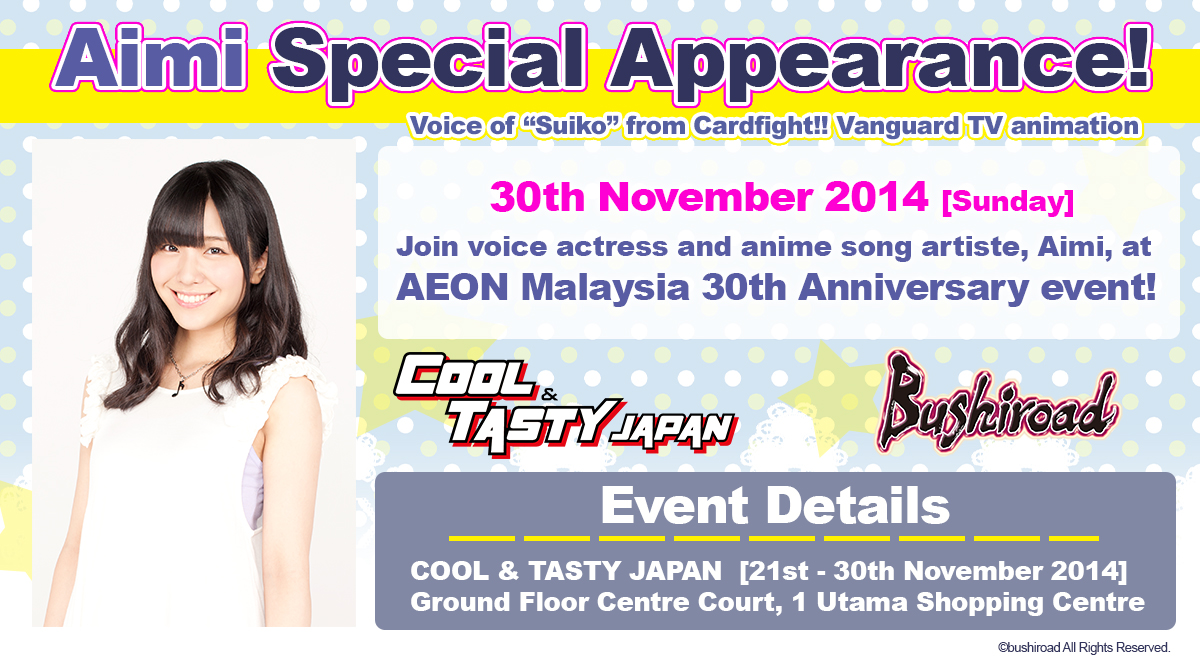 November 28, 2014
November 27, 2014
November 26, 2014
November 25, 2014
November 24, 2014
November 21, 2014
November 20, 2014
November 19, 2014
November 18, 2014
November 17, 2014
November 14, 2014
November 13, 2014
November 12, 2014
November 11, 2014
November 10, 2014
November 08, 2014
November 07, 2014
November 06, 2014
November 05, 2014
November 04, 2014
November 03, 2014
October 31, 2014
October 30, 2014
October 29, 2014
October 28, 2014
October 27, 2014
October 24, 2014
October 23, 2014
October 22, 2014
October 21, 2014
October 20, 2014
October 17, 2014
October 16, 2014
October 15, 2014
October 14, 2014
October 13, 2014
October 10, 2014
October 9, 2014
October 8, 2014
October 7, 2014
October 6, 2014
October 3, 2014
October 2, 2014
October 1, 2014
September 30, 2014
September 29, 2014
September 26, 2014
September 25, 2014
September 24, 2014
September 23, 2014
September 22, 2014
September 19, 2014
September 18, 2014
September 17, 2014
September 16, 2014
September 15, 2014
September 12, 2014
September 11, 2014
September 10, 2014
September 9, 2014
September 8, 2014
September 5, 2014
September 4, 2014
September 3, 2014
September 2, 2014
September 1, 2014
August 29, 2014
August 28, 2014
August 27, 2014
August 26, 2014
August 25, 2014
August 22, 2014
August 21, 2014
August 20, 2014
August 19, 2014
August 18, 2014
August 15, 2014
August 14, 2014
August 13, 2014
August 12, 2014
August 11, 2014
August 8, 2014
August 7, 2014
August 6, 2014
August 5, 2014
August 4, 2014
August 1, 2014
July 31, 2014
July 30, 2014
July 29, 2014
July 28, 2014
July 25, 2014
July 24, 2014
July 23, 2014
July 22, 2014
July 21, 2014
July 18, 2014
July 17, 2014
July 16, 2014
July 15, 2014
July 14, 2014
July 11, 2014
July 10, 2014
July 9, 2014
July 8, 2014
July 7, 2014
July 4, 2014
July 3, 2014
July 2, 2014
July 1, 2014
June 30, 2014
June 27, 2014
June 26, 2014
June 25, 2014
June 24, 2014
June 23, 2014
June 20, 2014
June 19, 2014
June 18, 2014
June 17, 2014
June 16, 2014
June 13, 2014
June 12, 2014
June 11, 2014
June 10, 2014
June 9, 2014
June 6, 2014
June 5, 2014
June 4, 2014
June 3, 2014
June 2, 2014
May 30, 2014
May 29, 2014
May 28, 2014
May 27, 2014
May 26, 2014
May 24, 2014
May 23, 2014
May 22, 2014
May 21, 2014
May 20, 2014
May 19, 2014
May 16, 2014
May 15, 2014
May 14, 2014
May 13, 2014
May 12, 2014
May 9, 2014
May 8, 2014
May 7, 2014
May 6, 2014
May 5, 2014
May 2, 2014
May 1, 2014
April 30, 2014
April 29, 2014
April 28, 2014
April 25, 2014
April 24, 2014
April 23, 2014
April 22, 2014
April 21, 2014
April 18, 2014
April 17, 2014
April 16, 2014
April 15, 2014
April 14, 2014
April 11, 2014
April 10, 2014
April 9, 2014
April 8, 2014
April 7, 2014
April 4, 2014
April 3, 2014
April 2, 2014
April 1, 2014
March 31, 2014
March 28, 2014
March 27, 2014
March 26, 2014
March 25, 2014
March 24, 2014
March 21, 2014
March 20, 2014
March 19, 2014
March 18, 2014
March 17, 2014
March 14, 2014
March 13, 2014
March 12, 2014
March 11, 2014
March 10, 2014
March 07, 2014
March 06, 2014
March 05, 2014
March 04, 2014
March 03, 2014