Tournaments
Sneak Preview Tournaments
Sneak Preview Tournaments are usually held 1 week before the release date of an expansion. Participants can stand a chance to obtain exclusive sneak preview event items such as playmats, deck cases and promotional cards. The exclusive items differ from each Sneak Preview Event.
More information about Sneak Preview Tournaments can be found here.


Shop Tournament
All retailers and shops that wish to host English Cardfight!! Vanguard Official Tournament:
From USA: Please mail your enquiries to sg_tour1@bushiroad-gp.com .
Outside of USA: Please contact your respective distributors.
※ We can only respond to the above email account regarding to Tournament Enquiries in USA.
July to September 2014 Shop Tournament prize: Cardfight Pack Vol. 10
Each participant will receive one Cardfight Pack Vol. 10.
Cardfight Pack Vol. 10 contains 1 random card from the following 6 cards.
PR/0109EN Wisdom Keeper, Metis
PR/0110EN Indifferent Succubus
PR/0111EN Sword of Hope, Richard
PR/0112EN Thousand Name Wyvern Knight
PR/0113EN Papilugal
PR/0114EN Stealth Beast, Bandit Ape

Events
Team League 2014
Will you protect Planet Cray with the Defenders or will you join the mysterious Invaders?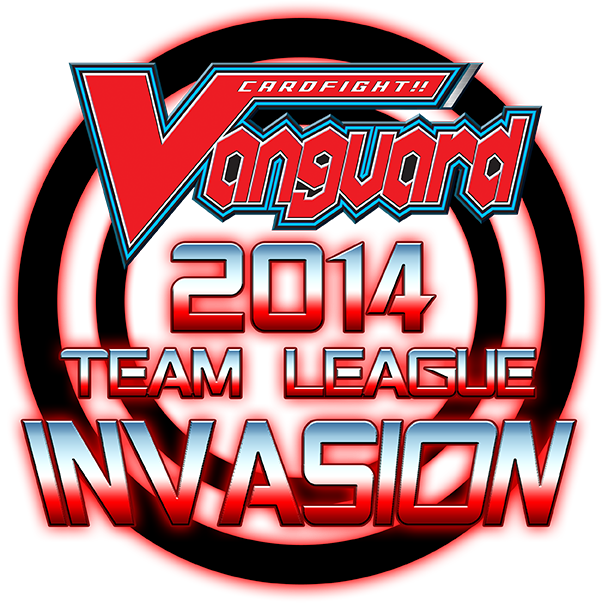 July 28, 2014
July 25, 2014
July 24, 2014
July 23, 2014
July 22, 2014
July 21, 2014
July 18, 2014
July 17, 2014
July 16, 2014
July 15, 2014
July 14, 2014
July 11, 2014
July 10, 2014
July 9, 2014
July 8, 2014
July 7, 2014
July 4, 2014
July 3, 2014
July 2, 2014
July 1, 2014
June 30, 2014
June 27, 2014
June 26, 2014
June 25, 2014
June 24, 2014
June 23, 2014
June 20, 2014
June 19, 2014
June 18, 2014
June 17, 2014
June 16, 2014
June 13, 2014
June 12, 2014
June 11, 2014
June 10, 2014
June 9, 2014
June 6, 2014
June 5, 2014
June 4, 2014
June 3, 2014
June 2, 2014
May 30, 2014
May 29, 2014
May 28, 2014
May 27, 2014
May 26, 2014
May 24, 2014
May 23, 2014
May 22, 2014
May 21, 2014
May 20, 2014
May 19, 2014
May 16, 2014
May 15, 2014
May 14, 2014
May 13, 2014
May 12, 2014
May 9, 2014
May 8, 2014
May 7, 2014
May 6, 2014
May 5, 2014
May 2, 2014
May 1, 2014
April 30, 2014
April 29, 2014
April 28, 2014
April 25, 2014
April 24, 2014
April 23, 2014
April 22, 2014
April 21, 2014
April 18, 2014
April 17, 2014
April 16, 2014
April 15, 2014
April 14, 2014
April 11, 2014
April 10, 2014
April 9, 2014
April 8, 2014
April 7, 2014
April 4, 2014
April 3, 2014
April 2, 2014
April 1, 2014
March 31, 2014
March 28, 2014
March 27, 2014
March 26, 2014
March 25, 2014
March 24, 2014
March 21, 2014
March 20, 2014
March 19, 2014
March 18, 2014
March 17, 2014
March 14, 2014
March 13, 2014
March 12, 2014
March 11, 2014
March 10, 2014
March 07, 2014
March 06, 2014
March 05, 2014
March 04, 2014
March 03, 2014