On this page, you will find information on rules to help you along!
If you have any questions regarding the game or specific cards, please refer to this page for any of the topics listed.
Bushiroad Judge Program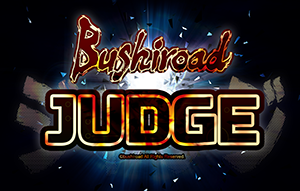 The official Bushiroad Judge Program is now live for North America!
We are pleased to announce that the Bushiroad Judge Program is now active in North America. You will enjoy the next level of tournament experience with our new program. You can identify our official judges by their new uniforms and official judge ID badges at Bushiroad events.
Click here to check out the new Bushiroad Judge Program!
Clan Fight and Extreme Fight Deck Regulations
With effect from March 30, 2015, all major Bushiroad-sanctioned Cardfight!! Vanguard tournaments will be adopting either the Clan Fight or the Extreme Fight deck regulations.
Shop owners and tournament organizers has the freedom in choosing which format they would prefer to hold their monthly shop tournaments in, in order to cater to the interests of their players.
The Clan Fight deck regulations has been fully adopted in Bushiroad Spring Fest 2015. It will also be adopted in Bushiroad World Championship 2015 which starts from August 2015.
Cardfight!! Vanguard G
Evolve your deck!! Stride with the G Unit!!
Learn the new mechanics in Cardfight!! Vanguard G here!

Click here for the highlights of the "Cardfight!! Vanguard Announcement – Evolution" held at the Tokyo WGP Event Stage on 4th October, 2014!
A tutorial on Cardfight!! Vanguard to teach beginners how to play.
Starter's Guide
The basic rules on how to play the game.
Playbook [Updated: March 3, 2015]
Comprehensive playbook which covers everything that you'll need to know about the game.

Please click the image to download the Ver. 3 of the Playbook [PDF|16MB].

Cardfight!! Vanguard G Playbook (Ver. 3.02)

[NEW] Find the latest version of the Playbook here, which covers contents for Cardfight!! Vanguard G!

Starting from the release of Cardfight!! Vanguard G Trial Decks, physical copies of the Playbook are no longer included as part of the products. Please kindly find the most updated version of the playbook on this page.
Comprehensive Rules & Floor Rules
[Updated November 6, 2015] These comprehensive rules are specifically targeted towards organisers, judges and advanced players for reference.

[Updated May 11, 2015] Updated with information regarding extra turns.

Floor rules ensure the fairness and completeness of our tournaments. Every participant is required to abide by the floor rules so that tournaments are run fairly and smoothly for all players to enjoy themselves. Any individual who interferes with the fairness or completeness of our tournaments would be penalized according to the penalty guidelines written in these rules. Bushiroad reserves all right to take further action if deemed necessary.
Booster Draft Recommended Rules
[Updated September 25, 2015] The Booster Draft Recommended Rules have been updated to include information on packs with 7 cards per pack and drafting with Secret Packs.

Booster Drafting brings a fresh new experience of playing Cardfight!! Vanguard which both new and veteran players can enjoy.
On this page are questions and answers on specific cards and rulings.

When there are error on cards due to ruling changes, misprints, or any other reason, the correct text will be listed on this page.
The correct text is applied for all tournaments and card fights.
When participating in official or sanctioned tournaments, these are the rules you will have to follow in addition to the cardfight rules.


November 25, 2015
November 24, 2015
November 23, 2015
November 20, 2015
November 19, 2015
November 18, 2015
November 17, 2015
November 16, 2015
November 14, 2015
BWC2015 France Qualifier is CANCELLED.
November 13, 2015
November 12, 2015
November 11, 2015
November 10, 2015
November 9, 2015
November 7, 2015
November 6, 2015
November 5, 2015
November 4, 2015
November 3, 2015
November 2, 2015
October 30, 2015
October 29, 2015
October 28, 2015
October 27, 2015
October 26, 2015
October 23, 2015
October 22, 2015
October 21, 2015
October 20, 2015
October 19, 2015
October 16, 2015
October 15, 2015
October 14, 2015
October 13, 2015
October 12, 2015
October 9, 2015
October 8, 2015
October 7, 2015
October 6, 2015
October 5, 2015
October 2, 2015
October 1, 2015
September 30, 2015
September 29, 2015
September 28, 2015
September 26, 2015
September 25, 2015
September 24, 2015
September 23, 2015
September 22, 2015
September 21, 2015
September 19, 2015
September 18, 2015
September 17, 2015
September 16, 2015
September 15, 2015
September 14, 2015
September 11, 2015
September 10, 2015
September 9, 2015
September 8, 2015
September 7, 2015
September 4, 2015
September 3, 2015
September 2, 2015
September 1, 2015
August 31, 2015
August 29, 2015
August 28, 2015
August 27, 2015
August 26, 2015
August 25, 2015
August 24, 2015
August 21, 2015
August 20, 2015
August 19, 2015
August 18, 2015
August 17, 2015
August 14, 2015
August 13, 2015
August 12, 2015
August 11, 2015
August 10, 2015
August 7, 2015
August 6, 2015
August 5, 2015
August 4, 2015
August 3, 2015
Jul 31, 2015
Jul 30, 2015
Jul 29, 2015
Jul 28, 2015
Jul 27, 2015
Jul 24, 2015
Jul 23, 2015
Jul 22, 2015
Jul 21, 2015
Jul 20, 2015
Jul 17, 2015
Jul 16, 2015
Jul 15, 2015
Jul 14, 2015
Jul 13, 2015
Jul 10, 2015
Jul 9, 2015
Jul 8, 2015
Jul 7, 2015
Jul 6, 2015
Jul 3, 2015
Jul 2, 2015
Jul 1, 2015
Jun 30, 2015
Jun 29, 2015
Jun 26, 2015
Jun 25, 2015
Jun 24, 2015
Jun 23, 2015
Jun 22, 2015
Jun 19, 2015
Jun 18, 2015
Jun 17, 2015
Jun 16, 2015
Jun 15, 2015
Jun 12, 2015
Jun 11, 2015
Jun 10, 2015
Jun 9, 2015
Jun 8, 2015
Jun 6, 2015
Jun 5, 2015
Jun 4, 2015
Jun 3, 2015
Jun 2, 2015
Jun 1, 2015
May 31, 2015
May 29, 2015
May 28, 2015
May 27, 2015
May 26, 2015
May 25, 2015
May 22, 2015
May 21, 2015
May 20, 2015
May 19, 2015
May 18, 2015
May 15, 2015
May 14, 2015
May 13, 2015
May 12, 2015
May 11, 2015
May 8, 2015
May 7, 2015
May 6, 2015
May 5, 2015
May 4, 2015
May 1, 2015
April 30, 2015
April 29, 2015
April 28, 2015
April 27, 2015
April 24, 2015
April 23, 2015
April 22, 2015
April 21, 2015
April 20, 2015
April 17, 2015
April 16, 2015
April 15, 2015
April 14, 2015
April 13, 2015
April 10, 2015
April 9, 2015
April 8, 2015
April 7, 2015
April 6, 2015
April 3, 2015
April 2, 2015
April 1, 2015
March 31, 2015
March 30, 2015
March 27, 2015
March 26, 2015
March 25, 2015
March 24, 2015
March 23, 2015
March 20, 2015
March 19, 2015
March 18, 2015
March 17, 2015
March 16, 2015
March 13, 2015
March 12, 2015
March 11, 2015
March 10, 2015
March 9, 2015
March 6, 2015
March 5, 2015
March 4, 2015
March 3, 2015
March 2, 2015
February 27, 2015
February 26, 2015
February 25, 2015
February 24, 2015
February 23, 2015
February 20, 2015
February 19, 2015
February 18, 2015
February 17, 2015
February 16, 2015
February 13, 2015
February 12, 2015
February 11, 2015
February 10, 2015
February 9, 2015
February 6, 2015
February 5, 2015
February 4, 2015
February 3, 2015
February 2, 2015
January 30, 2015
January 29, 2015
January 28, 2015
January 27, 2015
January 26, 2015
January 23, 2015
January 22, 2015
January 21, 2015
January 20, 2015
January 19, 2015
January 16, 2015
January 15, 2015
January 14, 2015
January 13, 2015
January 12, 2015
January 9, 2015
January 8, 2015
January 7, 2015
January 6, 2015
January 5, 2015
January 2, 2015
January 1, 2015
December 31, 2014
December 30, 2014
December 29, 2014
December 26, 2014
December 25, 2014
December 24, 2014
December 23, 2014
December 22, 2014
December 19, 2014
December 18, 2014
December 17, 2014
December 16, 2014
December 15, 2014
December 12, 2014
December 11, 2014
December 10, 2014
December 9, 2014
December 8, 2014
December 5, 2014
December 4, 2014
December 3, 2014
December 2, 2014
December 1, 2014
November 28, 2014
November 27, 2014
November 26, 2014
November 25, 2014
November 24, 2014
November 21, 2014
November 20, 2014
November 19, 2014
November 18, 2014
November 17, 2014
November 14, 2014
November 13, 2014
November 12, 2014
November 11, 2014
November 10, 2014
November 08, 2014
November 07, 2014
November 06, 2014
November 05, 2014
November 04, 2014
November 03, 2014
October 31, 2014
October 30, 2014
October 29, 2014
October 28, 2014
October 27, 2014
October 24, 2014
October 23, 2014
October 22, 2014
October 21, 2014
October 20, 2014
October 17, 2014
October 16, 2014
October 15, 2014
October 14, 2014
October 13, 2014
October 10, 2014
October 9, 2014
October 8, 2014
October 7, 2014
October 6, 2014
October 3, 2014
October 2, 2014
October 1, 2014
September 30, 2014
September 29, 2014
September 26, 2014
September 25, 2014
September 24, 2014
September 23, 2014
September 22, 2014
September 19, 2014
September 18, 2014
September 17, 2014
September 16, 2014
September 15, 2014
September 12, 2014
September 11, 2014
September 10, 2014
September 9, 2014
September 8, 2014
September 5, 2014
September 4, 2014
September 3, 2014
September 2, 2014
September 1, 2014
August 29, 2014
August 28, 2014
August 27, 2014
August 26, 2014
August 25, 2014
August 22, 2014
August 21, 2014
August 20, 2014
August 19, 2014
August 18, 2014
August 15, 2014
August 14, 2014
August 13, 2014
August 12, 2014
August 11, 2014
August 8, 2014
August 7, 2014
August 6, 2014
August 5, 2014
August 4, 2014
August 1, 2014
July 31, 2014
July 30, 2014
July 29, 2014
July 28, 2014
July 25, 2014
July 24, 2014
July 23, 2014
July 22, 2014
July 21, 2014
July 18, 2014
July 17, 2014
July 16, 2014
July 15, 2014
July 14, 2014
July 11, 2014
July 10, 2014
July 9, 2014
July 8, 2014
July 7, 2014
July 4, 2014
July 3, 2014
July 2, 2014
July 1, 2014
June 30, 2014
June 27, 2014
June 26, 2014
June 25, 2014
June 24, 2014
June 23, 2014
June 20, 2014
June 19, 2014
June 18, 2014
June 17, 2014
June 16, 2014
June 13, 2014
June 12, 2014
June 11, 2014
June 10, 2014
June 9, 2014
June 6, 2014
June 5, 2014
June 4, 2014
June 3, 2014
June 2, 2014
May 30, 2014
May 29, 2014
May 28, 2014
May 27, 2014
May 26, 2014
May 24, 2014
May 23, 2014
May 22, 2014
May 21, 2014
May 20, 2014
May 19, 2014
May 16, 2014
May 15, 2014
May 14, 2014
May 13, 2014
May 12, 2014
May 9, 2014
May 8, 2014
May 7, 2014
May 6, 2014
May 5, 2014
May 2, 2014
May 1, 2014
April 30, 2014
April 29, 2014
April 28, 2014
April 25, 2014
April 24, 2014
April 23, 2014
April 22, 2014
April 21, 2014
April 18, 2014
April 17, 2014
April 16, 2014
April 15, 2014
April 14, 2014
April 11, 2014
April 10, 2014
April 9, 2014
April 8, 2014
April 7, 2014
April 4, 2014
April 3, 2014
April 2, 2014
April 1, 2014
March 31, 2014
March 28, 2014
March 27, 2014
March 26, 2014
March 25, 2014
March 24, 2014
March 21, 2014
March 20, 2014
March 19, 2014
March 18, 2014
March 17, 2014
March 14, 2014
March 13, 2014
March 12, 2014
March 11, 2014
March 10, 2014
March 07, 2014
March 06, 2014
March 05, 2014
March 04, 2014
March 03, 2014