Banned/Restricted Cards (last updated on 9th July 2012)

When a card is banned or restricted to use in tournaments, it will be listed on this page.


Updated on 9th July 2012
Card No: BT01/003EN , BT01/S03EN "Barcgal"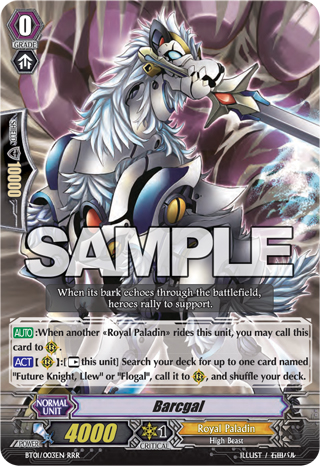 Starting from August 1, 2012, "Barcgal" (BT01/003EN and BT01/S03EN) cannot be used as a first Vanguard in all Bushiroad official and Bushiroad sanctioned English version tournaments. Up to four "Barcgal" can still be included in a deck as long as it is not used as a first Vanguard.

The reason for the restriction was because Royal Paladin decks using "Barcgal" as the first Vanguard was too powerful. With the release of booster pack "Demonic Lord Invasion" in August, the Royal Paladin decks' power would be reinforced. We felt that with one clan being too powerful, it would prevent fighters from wanting to play with the other clans, thus taking away the fun from tournament play. Therefore, with the release of the upcoming "Demonic Lord Invasion", we have decided to take preemptive action.

We wish to maintain a healthy tournament environment, and we thank you for your kind understanding on this matter.


May 17, 2013
May 16, 2013
May 15, 2013
May 14, 2013
May 13, 2013
May 10, 2013
May 09, 2013
May 08, 2013
May 07, 2013
May 03, 2013
May 02, 2013
April 30, 2013
April 26, 2013
April 25, 2013
April 24, 2013
April 23, 2013
April 22, 2013
April 19, 2013
April 18, 2013
April 17, 2013
April 16, 2013
April 15, 2013
April 12, 2013
April 11, 2013
Updated movie header with VGE-TD07 TVC
April 10, 2013
April 09, 2013
April 08, 2013
April 05, 2013
April 04, 2013
April 03, 2013
April 02, 2013
April 01, 2013
March 29, 2013
March 28, 2013
March 27, 2013
March 26, 2013
March 25, 2013
March 22, 2013
March 21, 2013
March 20, 2013
March 19, 2013
March 18, 2013
March 15, 2013
March 13, 2013
March 12, 2013
March 11, 2013
March 08, 2013
March 07, 2013
March 06, 2013
March 05, 2013
March 04, 2013
March 01, 2013
February 28, 2013
February 27, 2013
February 26, 2013
February 25, 2013
February 22, 2013
February 21, 2013
February 20, 2013
February 19, 2013
February 18, 2013
Updated movie header with VGE-BT05 TVC
February 15, 2013
February 14, 2013
February 08, 2013
February 07, 2013
February 06, 2013
February 05, 2013
February 04, 2013
February 01, 2013
January 31, 2013
January 30, 2013
January 29, 2013
January 28, 2013
January 25, 2013
January 24, 2013
January 23, 2013
January 22, 2013
January 21, 2013
January 18, 2013
January 17, 2013
January 16, 2013
January 15, 2013
January 14, 2013
January 11, 2013
January 10, 2013
January 09, 2013
January 08, 2013
January 07, 2013
January 04, 2013
December 28, 2012
December 27, 2012
December 26, 2012
December 24, 2012
December 21, 2012
December 20, 2012
December 19, 2012
December 18, 2012
December 17, 2012
December 14, 2012
December 13, 2012
December 12, 2012
December 11, 2012
December 10, 2012
December 07, 2012
December 06, 2012
December 05, 2012
December 04, 2012
December 03, 2012
November 30, 2012
November 29, 2012
November 28, 2012
November 27, 2012
November 26, 2012
November 23, 2012
November 22, 2012
November 21, 2012
November 20, 2012
November 19, 2012
November 16, 2012
November 15, 2012
November 14, 2012
November 12, 2012
November 08, 2012
November 07, 2012
November 06, 2012
November 05, 2012
November 03, 2012
November 02, 2012
November 01, 2012
October 31, 2012
Updated movie header with VGE-EB02 TVC
October 30, 2012
October 29, 2012
October 26, 2012
October 25, 2012
October 24, 2012
October 23, 2012
October 19, 2012
October 18, 2012
October 17, 2012
October 16, 2012
October 15, 2012
October 13, 2012
October 12, 2012
October 11, 2012
October 10, 2012
October 09, 2012
October 08, 2012
October 05, 2012
October 04, 2012
October 03, 2012
October 02, 2012
October 01, 2012
September 28, 2012
September 27, 2012
September 26, 2012
September 25, 2012
September 24, 2012
September 23, 2012
September 22, 2012
September 21, 2012
September 20, 2012
Updated movie header with VGE-BT07 TVC
September 19, 2012
September 18, 2012
September 17, 2012
September 14, 2012
September 13, 2012
September 12, 2012
September 11, 2012
September 10, 2012
September 07, 2012
September 06, 2012
September 05, 2012
September 04, 2012
September 03, 2012
September 01, 2012
August 31, 2012
August 30, 2012
August 29, 2012
August 28, 2012
Updated movie header with VGE-BT03 TVC
August 27, 2012
August 24, 2012
August 23, 2012
August 22, 2012
August 21, 2012
August 20, 2012
August 17, 2012
August 16, 2012
August 15, 2012
August 14, 2012
August 13, 2012
August 10, 2012
August 09, 2012
August 08, 2012
August 07, 2012
August 06, 2012
August 03, 2012
August 02, 2012
August 01, 2012
July 31, 2012
July 30, 2012
Updated Today's Card
Updated World Championship - Dallas location
July 28, 2012
Updated Latest News - Booster Pack Vol. 3 Mini-Preview on Facebook
July 27, 2012
Updated Today's Card
Updated August Shop Tournament Listing
Updated Kick-Off Event page
July 26, 2012
Updated Today's Card
World Championship - Asia-Oceania Qualifiers Details
July 25, 2012
July 24, 2012
July 23, 2012
Updated Today's Card
World Championship - Europe Qualifiers Details
July 20, 2012
Updated Today's Card
Updated World Championship - Dallas location
Shop Tournaments - Updated Promo Card Pack details
July 19, 2012
Updated Today's Card
Updated PR Card list
July 18, 2012
Updated Today's Card
Added card sleeves details for Anaheim Kick-off Event
July 17, 2012
Updated Today's Card
Updated Events
July 16, 2012
Updated Today's Card
News - Counterfeit Gold/Silver Trigger Coupons
July 13, 2012
July 12, 2012
Updated Today's Card
Updated World Championship Entry Fee details
July 11, 2012
July 10, 2012
July 09, 2012
Updated Today's Card
Updated Banned/Restricted Cards
New EB03 Video
July 06, 2012
July 05, 2012
Updated Today's Card
Updated Prize details for Qualifiers and Championship - World Championship 2012p
Updated release dates for Rampage of the Beast King, Banquet of Divas & Eclipse of Illusionary Shadows
July 04, 2012
July 03, 2012
July 02, 2012
Updated Today's Card
Updated North America World Championship Tournament details
June 29, 2012
Updated Card List with EB03 - Cavalry of Black Steel cards
Updated Q&A with possible questions related to EB03
Updated Today's Card
June 28, 2012
June 27, 2012
June 26, 2012
Updated July shop tournament listing - Canada
Updated July shop tournament listing - North America
Updated Today's Card
June 25, 2012
Updated July shop tournament listing - Asia
Updated July shop tournament listing - Australia
Updated July shop tournament listing - Europe
Updated July shop tournament listing - Latin America
Updated Today's Card
June 23, 2012
AX2012 Bushiroad booth and event details released
June 21, 2012
Updated Today's Card
Added Philippines shop details
June 20, 2012
Updated Today's Card
Updated Shops Page
June 19, 2012
June 18, 2012
Updated Worlds 2012 page
Updated Today's Card
June 15, 2012
Updated Rules/Q&A page
Updated Today's Card
June 14, 2012
Updated Shops page
Updated Today's Card
June 13, 2012
Updated Today's Card
Updated Tournament Listings
Updated Latest News
June 12, 2012
Updated Rules/Q&A page
Updated Today's Card
June 11, 2012
Updated Rules/Q&A page
Updated Today's Card
June 8, 2012
Updated Anime Expo 2012 page
Updated Today's Card
June 7, 2012
Updated Anime Expo 2012 page
Updated Products page
Updated Today's Card
June 6, 2012
Renewed layout
Updated AFA Malaysia page
Updated For Beginners page
Updated Products page
Updated Links page