Today's Card
January 18 2018
January 19 2018
January 22 2018
January 23 2018
January 24 2018
January 25 2018
Revision Scientist, Delibelly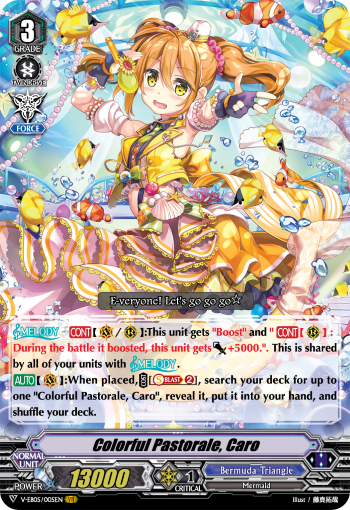 If the space isn't enough, you just have to make more.
Artistic Ocelot
Originality is sought after even in this era.
Immortality Professor, Sankalpa
Have an ambition. One that's bigger than even a school building.
Maiden Lily Musketeer Captain, Virginal Cecilia
The blade of noble beliefs hidden in the hearts of maidens.
Evil Governor, Darkface Gredora
For my lovely children to prosper, the world must first be destroyed.
Omniscience Dragon, Balaurl
Those who know all, have the duty to educate those won don't
This card is featured in Cardfight!! Vanguard G Extra Booster Vol. 2: The AWAKENING ZOO
"Today's Card" will be updated every weekday, so don't miss it!
Cardfight!! Vanguard G Extra Booster Vol. 2: The AWAKENING ZOO
Release Date: January 26, 2017
Regarding use of card images from the Official Portal Site
The card images shown on the Official Portal Site of Cardfight!! Vanguard (http://cf-vanguard.com/), may be reposted on another site if the guidelines listed below are followed.
In such cases, it is not necessary to contact Bushiroad directly, and we hope that they will be useful for the communication between cardfighters.

If there are any doubts regarding the guidelines stated above, please feel free to contact Bushiroad's user-support at the following e-mail address:
Bushiroad User-support: support@bushiroad.com
The guidelines stated above are subject to changes at any given time without prior notice. We seek your kind understanding in this matter.